Fall Pet Safety Tips from Your Kalamazoo Mobile Veterinarian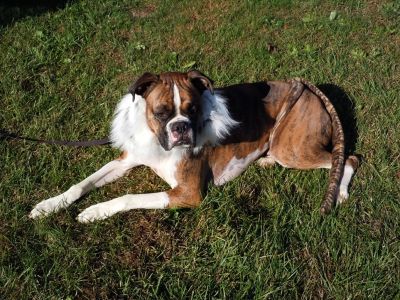 Fall is a great time of year for many people. The holidays are upon us and it's generally not too cool nor too hot for a long stroll with your dog through the neighborhood. Unknown to many pet owners, though, are many of the risks that are present this time of year. In this post, we will look at some pet safety tips from your Kalamazoo mobile veterinarian.
One of the biggest mistakes I see is this false sense of security that comes with the cooler temperatures. Cooler air does not mean there are no parasites in your yard and other places you take your pet. There really are parasites abound all year long, and with the increase in overall temperatures, the life and reproductive cycles of pests like heartworms, fleas, and ticks are active more often than they used to be.
With Halloween just around the corner it's extremely important to take note of what types of food can make your pet sick or worse and to make sure they're kept well out of reach – chocolate (baking or dark being the worst), macadamia nuts, raisins or grapes, and xylitol (common in gum and sugar free candies).
Another thing to consider is the shortening of days. This means that you're more likely to be walking your dog at night and it's more likely to be crisp and cool at that time. If you have a dog that's not accustomed to cold temperatures, or one that has aged and is more sensitive, you should purchase a sweater or coat for them to wear to help keep their body temperature up.
At Creature Comfort Veterinary House Call Services in Kalamazoo, we know the absolute importance of taking the best possible care of your pet. If you have any questions about fall and how best to look after your pet, do not hesitate to contact us today!