Our House Call Vet Services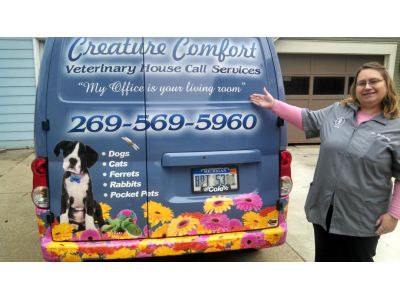 Creature Comfort's house call vet services are designed to provide our clients with a convenient, personable, and professional experience brought right to your door. This is for pet owners who find it difficult to travel with pets or have a busy schedule that does not work well with traditional veterinary hours. Our mobile vet is offered for Kalamazoo County, but our service area does extend to Battle Creek, Plainwell/Otsego, Paw Paw, Schoolcraft, and everything in between. If you are outside our mobile vet service area, you can still contact us to see if we have availability.
We accept dogs, cats, rabbits, ferrets, and other mammals that includes fish. We do not service reptiles, amphibians, or birds. Our pricing is based on a house call fee that varies upon location. Typically, our minimum fee is $30, but it can be up to $50 for appointments outside of our service area. Any animal who is receiving vaccinations will also receive an exam which can range from $25-$30, dependent upon their age and health.
In addition to our annual physical exams and sick pet exams (including examination of fish!), we offer an array of services. These include vaccinations, heartworm and tick titer testing, general bloodwork, leukemia and FIV testing, fecal exams, and urinalysis. We also do fine needle aspirates and cytology with the option of a referral to a clinical pathologist, and end of life assessment and euthanasia. The certifications we offer are health certificates, and rabies and vaccine certificates.
We do not perform in-home surgeries on the basis that it is considered unethical and negligent due to safety concerns. We also do not offer cremation services, though we work with Life Tails, a pet division of Life Story Funeral home in Kalamazoo. They will come to your home and pick up the pet and perform a communal cremation for $75 and individual cremation for an additional fee.
We do carry flea/tick and heartworm medication with us on house visits, though we only carry Heartgard and Nexgad for dogs, and Revolution for cats. Luckily, we have partnered with the VetSource online store where other medications can be bought. VetSource is a trusted and reputable online store that provides patients with guaranteed high-quality medication. Just like medication purchased at a veterinary hospital, the manufacturer guarantees and warranties remain in place unlike other online vendors.